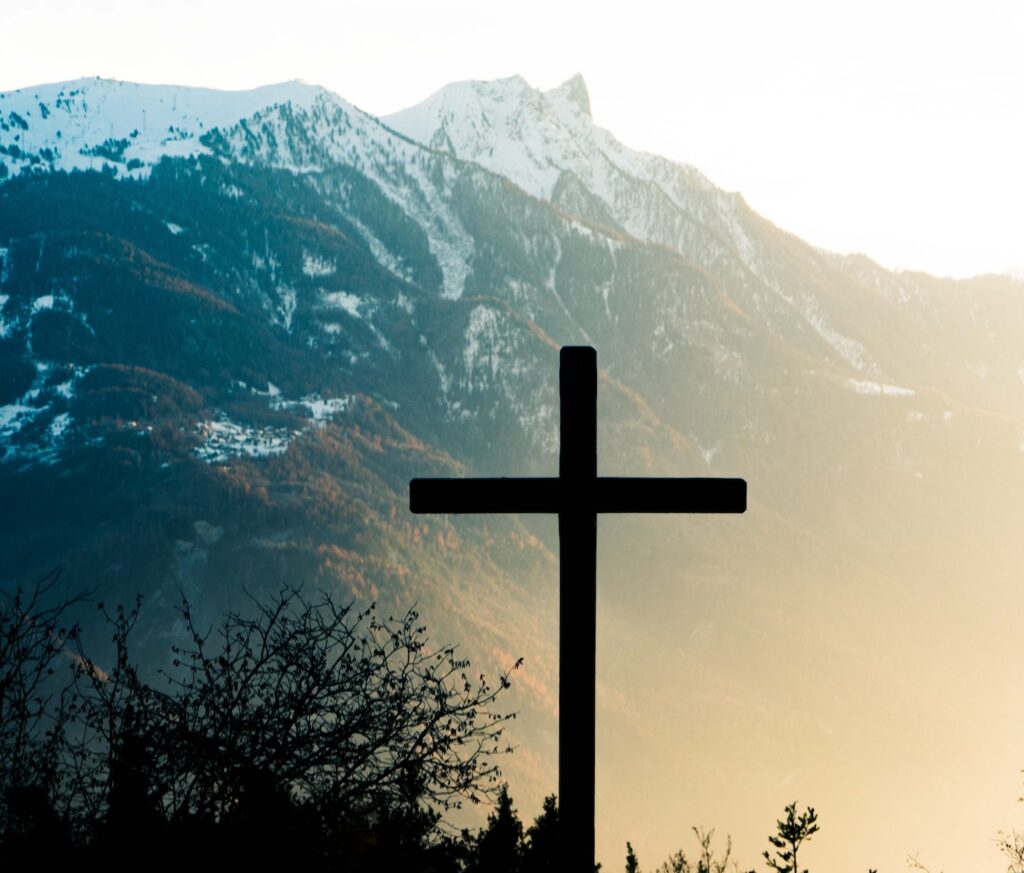 ARE YOU 100% SURE THAT YOU WOULD GO TO HEAVEN IF YOU DIED TODAY?
More important than a person's vocation, religion, or where they may attend Church, is where they will spend eternity. We understand that Colonial Baptist Church is not for everyone, but heaven is!! Our desire for you dear reader is this; that you will take your time and prayerfully consider the contents of what you are about to read.
The Bible says:
"The Lord is not slack concerning his promise, as some men count slackness; but is longsuffering to us-ward, not willing that any should perish, but that all should come to repentance." ~ 2Pe 3:9 (KJV)
As we examine this verse of scripture, we see several things. We first notice that God keeps His promise regardless of what men may think! Secondly, we notice that God desires that no one perish. And thirdly, we see that some will and do perish as well as the reason why they perish. They perish because, they do not "come to repentance".
Jesus said:
"I tell you, Nay: but, except ye repent, ye shall all likewise perish." ~ Luk 13:3 (KJV)
Again we read:
"Repent ye therefore, and be converted, that your sins may be blotted out;" ~ Acts 3:19 (KJV)
We understand by these, and many other such verses in the scriptures, that 
THERE IS A CONDITION TO HAVING OUR SINS BLOTTED OUT
. The condition being,
 REPENTANCE!
Before one can even hope to have the assurance of Heaven, he or she must be willing to deal with their own personal sin problem based on the fact of the matter according to what the Bible says, rather than what they may think. Perhaps the greatest of all 
"FALSE HOPES"
 is this; Because Jesus died for the sins of the whole world, it is commonly believed that everyone will 
AUTOMATICALLY
 go to heaven. We have already seen from the scriptures that one must repent in order to have his or her sins forgiven. Contrary to popular thinking, 
NO ONE
 will 
AUTOMATICALLY
 go to Heaven!
The Bible warns:
"There is a way which seemeth right unto a man, but the end thereof are the ways of death." ~ Pr 14:12 (KJV)
We are admonished to:
"Trust in the LORD with all thine heart; and lean not unto thine own understanding." ~ Pr 3:5 (KJV)
Many no doubt, though sincere and dedicated in their religious beliefs and practices, are leaning to their own understanding. It is imperative that we forsake all teachings and even our own understanding concerning these matters that contradict the plain teaching of the Bible. We must trust in the LORD with all our heart and depend solely on what the Bible says. We will further discuss this matter of repentance and why we must do it later on. The majority of people when asked; "are you 100 percent sure you are going to heaven when you die," generally respond in one of the following ways: 1. I think I am. 2. Nobody can know for sure. 3. I am a pretty good person, 4. I think I will make it. 5. I've been baptized. 6. I was born into a Christian family. 7. I already attend a good church. 8. My daddy was a Baptist preacher, or a Priest. 9. I do not have time for that right now, I am really very busy. Did you know dear reader, that God loves you and desires that you have everlasting life?
"For God so loved the world, that he gave his only begotten Son, that whosoever believeth in him should not perish, but have everlasting life." ~ John 3:16 (KJV)
Did you know that God wants you to 
KNOW FOR SURE
 that when you die, You are going to be with Him in heaven for eternity?
"These things have I written unto you that believe on the name of the Son of God; (Jesus) that ye may know that ye have eternal life, and that ye may believe on the name of the Son of God." ~ 1 John 5:13 (KJV)
But there is a problem, and that problem is sin.
"As it is written, There is none righteous, no, not one" ~ Romans 3:10 (KJV)
"For all have sinned, and come short of the glory of God;" ~ Romans 3:23 (KJV)
We as humans have a much different idea about sin than God does. When we think about sin, we usually think of the most despicable crimes known to mankind. Things like murder, rape, terrorism, robbery, or child molestation. Many people make the assumption of their innocence because they have not committed such acts. But there are many things we have done that are sins that we may never have thought of as being displeasing to God. Ask yourself the following questions to determine if you have ever sinned: 1. Have you ever told a lie about anything? 2. Have you ever borrowed and never repaid? 3. Have you ever participated in gossip? 4. Do you sometimes have an anger problem? 5. Have you ever refused to forgive someone who did you wrong? 6. Have you, in your own mind looked upon or lusted after another woman or man? I think we can all say that we have committed at least one of the sins listed in the very short list above. All these things only serve to prove one thing, 
WE ARE ALL SINNERS! LIKE IT OR NOT!
You see, we must realize and acknowledge the fact that we are sinners! If we do not, we will not call on the Saviour! Neither will we seek to repent! This is exactly what Jesus said to a group of His religious listeners many years ago, who thought themselves to be righteous by way of their own good deeds.
"And when the Pharisees saw it, they said unto his disciples, Why eateth your Master with publicans and sinners? But when Jesus heard that, he said unto them, "They that be whole need not a physician, but they that are sick. But go ye and learn what that meaneth, I will have mercy, and not sacrifice: for I am not come to call the righteous, but sinners to repentance." ~ Mat 9:11-13 (KJV)
We understand then, that Jesus cannot save anyone who does not realize they are "sin-sick"! People who are not sick do not call for a doctor… People who do not realize their sinful condition do not see the need to repent, neither will they call for the Saviour! 
ONLY THOSE WHO REALIZE THEY ARE SINNERS MAY BE SAVED!
1. How did we become a sinner? By birth through our biological father's blood line, who is consequently a descendant of Adam. 1 Corinthians 15:22 (KJV) teaches that 
ALL
 descendants of Adam are born in his image and likeness which is that of a fallen sinner. 2. We inherited our sin nature from Adam (the father of all mankind). Romans 5:12a (KJV) states:
"Wherefore, as by one man (Adam) sin entered into the world,"
3. This verse also states that as a result of our sin, we were all sentenced to die. Romans 5:12b (KJV) says:
 "and death by sin; and so death passed upon all men, for that all have sinned."
a. Romans 6:23 (KJV) says: 
"For the wages of sin is death."
Wages are something we have earned or deserve. b. 1 Corinthians 15:22 (KJV) says: 
"in Adam all die."
The fact that we all die; proves that we have all sinned! There is a penalty for sin, and that penalty is death. We all die a physical death, but this is only part of the penalty. There is also an eternal death, referred to in scripture as "the second death."
"And I saw a great white throne, and him that sat on it, from whose face the earth and the heaven fled away; and there was found no place for them. And I saw the dead, small and great, stand before God; and the books were opened: and another book was opened, which is the book of life: and the dead were judged out of those things which were written in the books, according to their works. And the sea gave up the dead which were in it; and death and hell delivered up the dead which were in them: and they were judged every man according to their works. And death and hell were cast into the lake of fire. This is THE SECOND DEATH. And whosoever was not found written in the book of life was cast into the lake of fire." ~ Revelation 20:11-15 (KJV)
Within you is a living soul that will live forever, long after your physical body has died. Your soul is going to end up in only one of two places, heaven or hell. Because you were born with a sinful nature, you are already condemned to hell. BUT WAIT! There is good news. God sent his Son to pay for our sins! God does not want anyone to go to such a terrible place as the lake of fire.
"But God commendeth (proved) his love toward us, in that, while we were yet sinners, Christ died for us." ~ Romans 5:8 (KJV)
History proves the fact that God sent his Son, Jesus, to earth over 2,000 years ago to pay for our sins.
"For God so loved the world, that he gave his only begotten Son, that whosoever believeth in him should not perish, but have everlasting life." ~ John 3:16 (KJV)
WHAT THEN MUST ONE DO TO BE SAVED?
All you have to do is put your entire faith in the finished work of Jesus Christ to get you to heaven, and you will be saved from going to hell when you die.
"That if thou shalt confess with thy mouth the Lord Jesus, and shalt believe in thine heart that God hath raised him from the dead, thou shalt be saved."
 ~ Romans 10:9 (KJV)
HERE IS HOW STEP BY STEP!
1. John 1:12 (KJV) says, 
"But as many as received him, to them gave he power to become the sons of God, even to them that believe on his name: (John 1:13) Which were born, not of blood, nor of the will of the flesh, nor of the will of man, but of God."
Let us break these all important verses down: a. 
"But as many"…
 None are turned away, all who will, may receive. b.
 "as received Him,"…
 Salvation is the gift of a person (Jesus) to be personally received into our hearts by faith. c. 
"To them gave He power to become the Sons of God,"…
 It is not we Ourselves, but God who empowers us to become His sons and daughters. d. 
"Even to them that believe on his name:"…
 It is the act of a biblical belief evidenced by genuine faith and trust in Jesus alone. e.
 "Which were born, not of blood,"…
 We do not inherit it from our parents. Simply because we may live in a Christian home does not save us. f. 
"nor of the will of the flesh,"…
 It is not based on human merit or good works of our own choosing. g. 
"nor of the will of man,"…
 It is not something that someone else can do or will for us. Infant baptisms, confessionals, ect. h. 
"But of God."…
 It is a super-natural spiritual birth performed by God, and God alone! 2. So, we see then, that we enter God's family by way of a spiritual birth performed by our God Himself. John 3:3 (KJV) states, 
"…Except a man be born again, he cannot see the kingdom of God."
So, we understand then, that it is indeed, a personal choice that each one of us must make. We have been given the liberty to either accept or reject God's gift of eternal life. The choice we make will render consequences either unto life eternal, or eternal death. The choice is ours! Let me encourage you dear reader, please choose the Lord Jesus if you have not done so already! Many people, desiring to be saved, have said something similar to the following words unto the Lord, and you can too! It isn't nearly so much the words you say as it is the sincerity of your heart.
Dear Lord, I know I am a sinner. I believe that Jesus Christ came to this earth, that he was born of a virgin and lived a perfect sinless life, that he died on the cross to pay my sin debt according to the scriptures, And that he was buried, and that he rose again the third day according to the Scriptures. Please be merciful to me a sinner Lord! I now receive Jesus into my heart, wholly putting my faith and trust entirely in Him to forgive me of my sins, and cleanse me from all my unrighteousness, and save me for eternity. Amen.
THAT IS IT!
There is nothing else you can do in order to go to heaven, only Jesus can save you!
"Neither is there salvation in any other: for there is none other name under heaven given among men, whereby we must be saved." ~ Acts 4:12(KJV)
Jesus saith unto him, …"I am the way, the truth, and the life: no man (or woman) cometh unto the Father, but by me."John 14:6 (KJV) "For by grace are ye saved through faith; and that not of yourselves: it is the gift of God: Not of works, lest any man should boast." ~ Ephesians 2:8-9 (KJV)
Did you make a decision for Christ just now? If so, or if you have questions, please let us know. You will find our contact information provided on this web site. It is our desire to help you in any way we can. May God bless you!